Guide to DC Nightlife: 18 and Up Venues

Are you under 21? Don't worry, there is no need to be stuck at a house party… or in your parent's basement. Washington DC has a wide selection of nightclubs, lounges, and live music venues for those who aren't of the legal drinking age. Check out the list for 18+ clubs, lounges and live venues in DC!
Check out our DC Nightlife Neighborhood Guide for a breakdown of venues by location!

18+ Nightlife in DC:
Ultrabar
Address: 911 F St NW Washington, DC 20004. 202-638-4663
Open for 18+: Thursday, Friday, Saturday (unless otherwise noted)
Atmosphere: 6 bars, 4 floors and a mezzanine level appealing to the 18-30 crowd. Ultrabar was made for those who really like to dance and party. It definitely gets wild. Ultrabar sets the standard for nightclubs in DC.
Echostage
Address: 2135 Queens Chapel Rd NE. 202.503.2330
Nightlife 18 and over: Per event
Atmosphere: Washington DC's newest and largest dedicated concert venue was built to house large-scale concert productions. Recent bookings include Armin van Buuren, Tiesto, Avicii, Big Sean and Beenie Man.
For upcoming events visit www.echostage.com
Soundcheck
Address: 1420 K St NW Washington, DC 20005
Open for 18+: Tuesday-Sunday (unless otherwise noted)
Atmosphere: If you want to go out and dance, but can't decide between a large club or a smaller lounge: this is the place to go. Designed to remind club-goers of the golden age of underground dance, Soundcheck has been outfitted with LED walls, lights and lasers that rival Echostage, and classic, highly necessary disco balls.
18+ Clubs in DC:
U Street Music Hall
Address: 1115A U St NW Washington, DC 20009. 202-588-1880.
Nightlife 18 and over: Weeknight, Weekends with pre-purchased tickets
Atmosphere: A dance/live music club that features a state-of-the-art sound system, minimal lighting and a 'be yourself' attitude. Bookings span the musical gamut from Skream & Benga to Donovan Frankenreiter.
Town Danceboutique
Address:  2009 8th St. NW Washington, DC 20009
Open for 18+: Friday
Atmosphere: A predominately gay dance club just outside the U Street Corridor. It is a combination of a cabaret performance space, a plush lounge, and high-energy dance club.  There are two floors, multiple rooms, an outside smoking area, video installation, and LED lighting.
18+ Lounges in DC:
Josephine
Address: 1008 Vermont Avenue NW Washington, DC 20005
Open for 18+: Tuesday
Atmosphere: Josephine Lounge in Washington DC is famous for the luxurious playground it provides The District's young, upscale, fun-loving thrill seekers. Named after Napoleon's first wife, the lounge is described as "a dark and mysterious adult fun house, all done up in black walls, lavender lights and multifaceted mirrors with embedded LEDs everywhere you look."
Midtown
Address:  1219 Connecticut Ave, NW, Washington, DC 20036. 202-853-3498
Nightlife 18 and over:  Thursday
Atmosphere: DC's Only Multi-level Retro Night Club. Decades is a four-story retro-themed nightclub celebrating club culture, DJs, and the greatest hits from the '80s, '90s, 2000s and the present.Graffiti, gadgets, gear and more are also showcased throughout the space. Every week college students and 20-somethings pack Decades for a Night full of fun!
Eden
Address:  1716 I St NW Washington DC 20006. 202-905-9300
Nightlife 18 and over:  Wednesday & Thursday
Atmosphere: 4 floors of aesthetic beauty. Guests of Eden find themselves surrounded by sophisticated LED displays, jungle-esque decor (it is the Garden of Eden, after all) and upscale clientele. Although a narrow venue, Eden provides a unique experience, especially to those lucky enough to make it to the rooftop, which brings a piece of South Beach to DC nightlife.
Live Music:
930 Club
Address: 815 V Street NW Washington, DC 20001.  202-265-0930
Nightlife 18 and over:  All ages (excluding certain shows)
Atmosphere: A nightclub and concert venue has a capacity of 1200 people and is a standing-only venue. It won the Top Club award at the 2007and 2009 Billboard Touring Awards and has been host to shows from Smashing Pumpkins, Tears for Fears, Crystal Castles and Paul Van Dyk. Current concert line-up can be found on their website.
Black Cat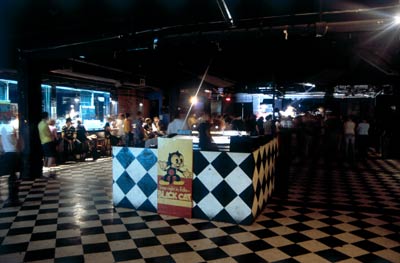 Address: 1811 14th St NW Washington, DC 20009. 202-667-4490
Nightlife 18 and over:  M-S (Every Night)
Atmosphere: Known mainly for indie music but also does metal, punk and electronic plus DJ/dance nights. "Mainstage" on the second floor w/ capacity of ~700. Lesser known acts play the "Backstage" on the first floor that holds ~200 people. The first floor of the club also contains a no-cover bar/lounge called the "Red Room" and the "Food For Thought" cafe.
DC 9
Address: 1940 9th Street NW Washington, DC 20001. 202-483-5000
Nightlife 18 and over:  18 and up depending on the event
Atmosphere: Located in the hopping U Street Corridor, the two-level bar and nightclub features an eclectic mix of live music by local and national acts.
The Velvet Lounge
Address:  915 U Street NW, Washington, DC 20001. 202-462-3213
Nightlife 18 and over:  Select Shows 18+
Atmosphere:  The Velvet Lounge showcases many different musical genres. There is often a band, DJ or sometimes both.  The crowd is a mix of neighbors and out-of-towners of varying ages that come in to see their favorite shows.
Tweet