Attention all Hipsters and Indie Gadget Gurus!!!
>Introducing PLAYBUTTONS<
The iPod and Internet music downloading have been the major catalyst to plummeting album sales around the world.  Yet, sometimes, there is that one album from your favorite artist that you feel bad about dumping along into the endless sea that is your iTunes library.
Playbutton pairs the concept of a great album with the classic button pin for the perfect wearable way to listen to music. The front of the button typically features artwork, keeping the album cover relevant while making it easier for bands to distribute and promote their music in a tangible way.   The pin itself is an MP3 player that holds an entire full-length album, all powered by a rechargeable lithium battery.
Nick Dangerfield, Playbuttons creator, said "Even if it's a silly idea I thought it was important to establish a more intimate connection with an album—where you can hold it in your hand and [physically] have to go somewhere to buy it.
Recharge it by disconnecting your headphones and plugging the included USB dongle into the same jack. You have the option of jumping tracks, but much like a record player, the sequence of the album is nonnegotiable as an effort to retain the musicians' vision.
Playbutton  can be affixed to your lapel, or jean jacket, or any wearable fashion.  I can hear the Hipster's secretly squealing (as to not look too excited) about this new accessory.
The first batch of Playbuttons to hit the street include Bubbles' self-titled album, a reissue of Wind's Poem by Mount Eerie and a special Valentine-themed compilation of love songs by Vampire Weekend, Magnetic Fields, Bjork, Matthew Dear, Florence and The Machine, among others.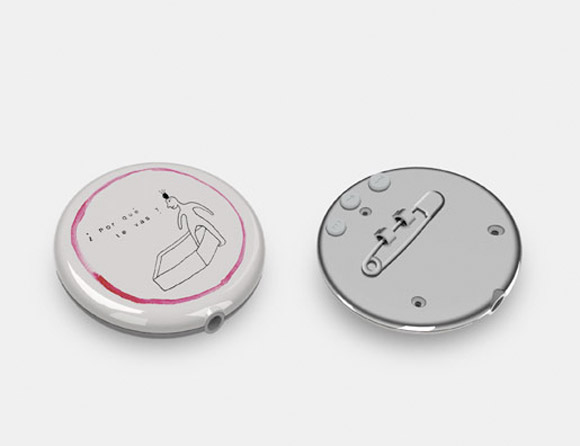 With a price tag of $20-$25 (Playbutton.co) the buttons may end up being more of a novelty, but I can see them as a great way to market new artists and a funky selling point at the merchandise tables at concerts.
Tweet
Get in Style
Tagged with: Album Buttons, Concert Buttons, Hipster Fashion, MP3, MP3 Players, Music, Music Novelty, New MP3, New Music, Playbutton, Playbuttons