The King of Pop's Bed Goes to Auction
Oh the circle of life. Celebrity is born. Celebrity entertains. Celebrity Dies. Stranger buys the tainted deathbed?
Doesn't everyone want to go to sleep every night on the same bed that Michael Jackson was pumped with narcotics and never awoke from? If so, the King of Pop's deathbed could be yours December 17, when celebrity auctioneer Darren Julien, president of Julien's Auctions opens the sale.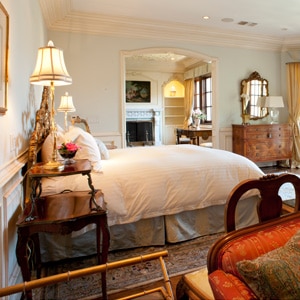 The queen-size bed with antique frame (and hopefully new sheets) is just one of the many items from the Holmby Hills home where MJ died that will be included in the auction.  Other items are a mirror from Jackson's "inner sanctum" — a private bedroom in the home where NO ONE else was allowed to enter. Plus, paintings, sculptures and antique furnishings have been positioned as displays for the auction.
A rep for Julien's told TMZ that the mirror contains an inspirational message Jackson scribbled on the piece for himself regarding his This Is It concert tour — which says, "TRAIN, perfection, March April. FULL OUT May."
May give a whole new meaning to looking in the mirror and saying "Bloody Mary" three times! Maybe MJ will appear and do a quickie version of "Beat It"!
Tweet